Quatrième visite d'étude du projet +Resilient à Marseille les 12 et 13 Mars 2019 (english below)
Des clusters d'innovation sociale aux clusters d'innovation technologique dans la Région Sud.
La quatrième visite d'étude du projet +Resilient a été organisée par l'Université d'Aix-Marseille et le LEST (Laboratoire d'Economie et de Sociologie du Travail). La visite s'est déroulée à Marseille les 12 et 13 mars. Plus de 20 représentants de 6 pays européens et près de 20 acteurs locaux ont participé à l'évènement.
La première journée s'est déroulée à la Friche de la Belle de Mai. La Friche, comme elle est appelée plus communément à Marseille, est une ancienne usine à tabac qui vit aujourd'hui grâce à une Société Coopérative d'Intérêt Collectif (SCIC) dont la mission consiste à développer les arts et la culture dans le quartier populaire de la Belle de Mai. Durant la matinée, des acteurs locaux investis dans l'innovation sociale ont présenté leurs activités issues de cinq domaines différents : humanités digitales (contre l'exclusion digitale), fab-labs et makers spaces, espaces urbains occupés et gérés par les citoyens, services à la personne et incubateurs d'innovation sociale.
Ces échanges ont été suivis par la visite du Jardin Levat, un ancien couvent et ses jardins qui appartiennent aujourd'hui à la Ville de Marseille. Le Jardin Levat est accessible à tous. C'est un espace qui rassemble différents groupes d'acteurs collectifs, notamment des artistes et des jardiniers, et dont les habitants du quartier de la Belle de Mai peuvent profiter librement.
Cette première journée s'est clôturée avec une session de « pitch » et de speed-networking entre les acteurs locaux et acteurs européens, ce qui fut une très belle occasion d'échanger sur les initiatives entreprises à travers l'Europe.
La deuxième journée de visite d'étude a débuté à The Camp, un cluster d'entreprises privées à responsabilité sociétale (en partenariat avec des institutions publiques). Ce groupement d'entreprises investit pour soutenir les innovations technologiques dans le but de répondre aux principaux défis sociétaux pour l'avenir de la planète : l'énergie, l'alimentation et la mobilité. Cette visite a permis de montrer aux participants un autre type de cluster et des méthodes différentes utilisées pour promouvoir le lien entre innovation sociale/sociétale et innovation technologique. La visite de The Camp fut la transition parfaite pour la session de l'après-midi qui s'est tenue dans les locaux de la Région Sud et qui était axée sur l'utilisation des données ouvertes. Plusieurs acteurs locaux ont présenté leurs structures et initiatives qui ont su exploiter les données ouvertes à des fins d'innovation sociale.
Pour plus d'informations sur le projet, visitez son site ici: https://plus-resilient.interreg-med.eu/
---
From social innovation clusters towards technologically-led innovation clusters in the South Region.
The fourth study visit of the +Resilient project was organised by Aix-Marseille University and the LEST (Institute of Labour Economics and Industrial Sociology). The visit took place in Marseille on the 12th and 13th of March. Over 20 representatives from 6 European countries and close to 20 local stakeholders participated in the event.
The first day of the visit took place in and around "La Friche la Belle de Mai", more commonly known as "LaFriche". La Friche is an old tobacco factory that is today run by a collective interest cooperative whose mission consists of developing arts and culture in the deprived urban neighbourhood of "La Belle de Mai". Presentations were made by local stakeholders from five different domains including digital humanities (against digital exclusion), fab-labs and makers spaces, urban spaces occupied and managed by citizens, home care services for dependent persons and social innovation incubators.
These exchanges were followed by the visit of "Le JardinLevat", an old convent and its grounds which are now owned by the Marseille City Hall. Le JardinLevat is accessible to all and is a space that brings together different groups of collective actors and that the community of the neighbourhood of La Belle de Mai can enjoy freely. 
This first day was concluded by a session of pitching and speed networking between local and European stakeholders, which proved to be a great opportunity to learn about initiatives all across Europe.
The second day begun at "The camp", a one-year old cluster of private enterprises of societal responsiveness (in partnership with public institutions), that invests to support technologically-led innovations in order to address three major societal challenges for the future of the planet: energy, food and mobility. This visit enabled to show the participants another type of cluster and methods used to promote the link between social innovation and open resources. The visit of The Camp was the perfect transition into the afternoon session, held at the South Region offices and which was focused on open data. Several local actors presented their structures and initiatives that have managed to use open data for the means of social innovation.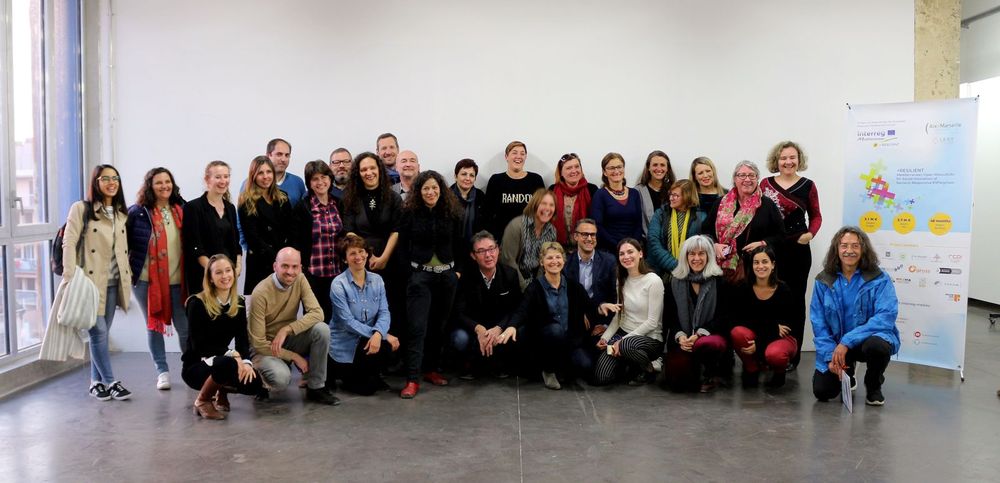 #
Date de l'évènement
Thursday, 21 March, 2019
#
Rubrique
Evènement